Get Your Dental Crown Done With Moore Dentistry & Braces's Expertise!
Crowns, or caps, are made to cover badly damaged teeth, restoring their shape and size. A bridge is a group of three or more crowns, or false teeth connected together to replace a section of missing teeth. Our team at Moore Dentistry & Braces is experienced in providing the care you need to prevent decay and replace any missing teeth that may be pre-existing. Visit us in Oklahoma City to see how we can help you find your perfect smile!
If you have questions about crowns, give us a call or just fill out the form below and we'll contact you about your dental care!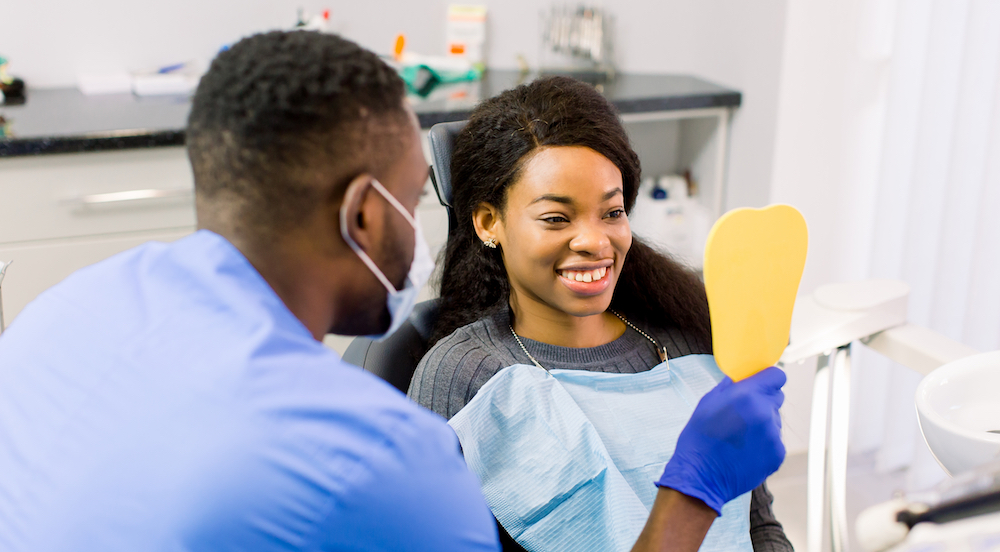 Why a Bridge?
When adult teeth are missing, it leaves space in the mouth that was not there originally. This can cause shifts in the remaining teeth that change the spacing. Unevenly spaced teeth are not only unattractive they can also cause damage to other teeth and discomfort. A bridge not only restores the appearance of your smile, it also serves as a spacer, to keep your natural teeth in their place.
Implant Bridges
An implant bridge is a permanently fixed replacement for any gaps that may be existing. By placing one or more implants, our team is able to provide a replacement that is durable, looks natural, and fits comfortably into your bite.
Removable Bridge
A removable bridge is a cost effective appliance that attaches to teeth on either side of the area it fills. Removable bridges can be taken out to clean, and are often left out to sleep. If properly fitted, this type of bridge can provide an excellent replacement for your natural teeth. Removable bridges are not as rugged as implants and other permanent bridges may need to be refitted from time to time. With proper care, a removable bridge will provide many years of excellent service.
Dental Crowns Effectively Restore Compromised Teeth
One damaged tooth in an otherwise healthy smile can be disturbing. This is especially true if the damage is severe enough that a traditional filling is not enough to cover it. When this occurs a "cap", or cosmetic crown can be made to restore the appearance of the tooth. Think of it as a veneer that covers your whole tooth for extra strength. The crown is shaped to fit the damaged tooth and recreate the size and shape of the original natural tooth. Since the cosmetic crown is custom made, the color can also be matched to your natural teeth. We will take digital photos so that the master lab technician can return a 'Wow!' result.
Cosmetic Crowns
Cosmetic Crowns are used in a wide variety of situations. Most commonly, there is more of a healthy tooth gone than remaining. If there would be more filling than natural tooth, the filling will fail quickly and it won't look natural. This is why we recommend a crown over the top. It can and will hold your tooth together in order for you to be able to smile naturally and chew like before. Cosmetic Crowns can also be used to anchor bridges and other dental appliances. Occasionally they are made to be removed along with the bridge.

In cases where the entire tooth is removed because the root is broken and a dental implant is installed, a Cosmetic Crown is formed to replace the missing tooth. This type of crown fits over the anchor of the implant. Permanent crowns are very strong and can restore a patient's ability to bite and chew normally.
Construction of Cosmetic Crowns
Cosmetic crowns are made from a variety of materials. Most patients prefer crowns that blend with natural teeth. In these cases, porcelain, ceramic or resin composites are used to create a tooth that will leave you guessing which you paid for and which you grew! At patient requests, other crowns are made from metals, including gold. Combination crowns may have a metal component underneath a layer of porcelain or ceramic.
Strong And Beautiful Crowns & Bridges Right Here In Oklahoma City!
Moore Dentistry & Braces is proud to take care of Oklahoma City's smiles. If you need a dental crown, bridge, or another dentistry service, give us a call or fill out the short form below for us to reach out to you!