Enjoy A Stress-Free Experience With Sedation Dentistry
Moore Dentistry & Braces understands that a visit to the dentist can cause anxiety. As part of our commitment to compassionate dental care, we provide our Oklahoma City community with multiple sedation options so that you or your loved ones can remain calm, safe, and stress-free throughout your treatment. From General Dentistry to root canals, we have accessible sedation options that will work for you!
If you have questions about Sedation Dentistry, contact us or simply fill out the short form below and we'll reach out!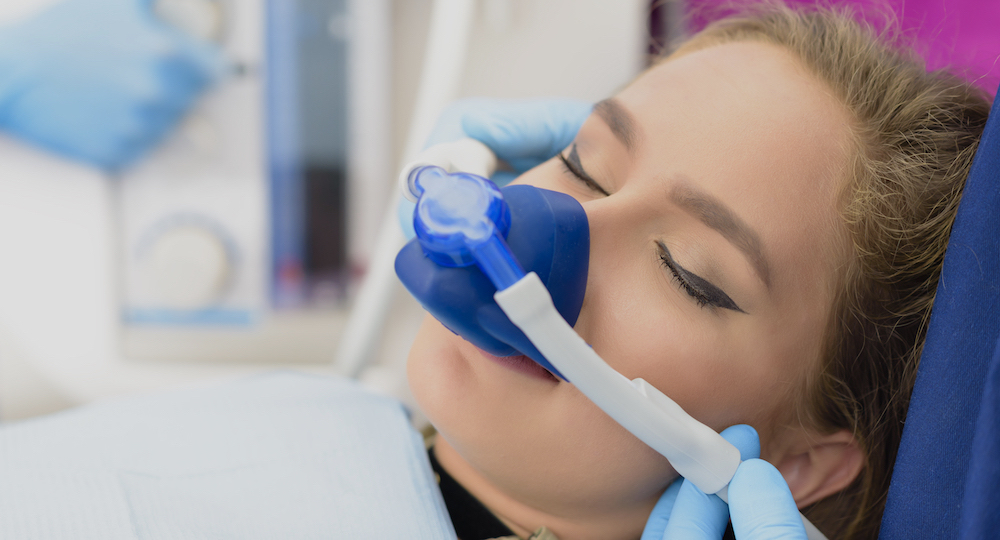 Avoid Pain & Anxiety Through Sedation Dentistry
We have a variety of options to match your individual needs. If you experience anxiety or dental phobia, we may suggest laughing gas to keep you calm and relaxed. You'll be awake and able to respond to your doctor throughout your procedure, but you'll feel a deep-seated sense of calm and euphoria. Laughing gas wears off quickly, so you'll still be able to drive yourself home and enjoy the rest of your day!
Moore Dentistry & Braces is dedicated to providing safe, compassionate, high-level care to everyone in Oklahoma City. If you're nervous about being sedated, we understand! However, Sedation Dentistry can help to genuinely improve your patient experience.
The benefits of Sedation Dentistry include:
Eliminate pain and discomfort - Sedation eliminates any risk of pain or discomfort during your appointment, so it's a perfect choice if you have dental anxiety or are worried about an upcoming surgery or procedure.
Stay comfortable for long procedures - If you have difficulty sitting still for long periods of time, Sedation Dentistry can help you stay comfortable. This can be especially helpful for you if you are having multiple or complex oral surgeries.
Keep your routine going with laughing gas - Laughing gas is a very mild sedative that wears off in about 5 minutes without any major side effects. As soon as you're doing with your appointment, you can get back to your normal routine.
Is Sedation Dentistry Right For You?
For patients who do not mind standard dental procedures without sedation, the added time and expense are not typically recommended. For patients who are extremely anxious about dentistry, maybe even to the point of having put it off for long periods, sedation may be just the key. Patients with extensive work to be done and very young patients are also good candidates for sedation dentistry. It gives peace of mind, while giving your dentist freedom to use the most efficient techniques, without concern about worrying or frightening you. Work is often done more quickly with less pain afterward, using this technique.
Each case is completely unique. We will tailor our approach to meet your emotional and physical needs. We work with methods that exclude the use of needles, to make it as comfortable as possible. Each of our staff is thoroughly trained and educated and we work using only protocols and techniques that have proven safe through use with millions of patients worldwide. Once you are thoroughly sedated at the level required for the procedure and your needs, the procedure is completed. Sedation is maintained throughout the procedure and you're allowed to wake and recover in a calm and welcoming environment once the work is complete.
Nervous? We Can Help! Take The Stress Out Of Your Smile With Professional Sedation Dentistry in Oklahoma City!
You don't need to suffer through stress or anxiety during your dental appointment. Our team at Moore Dentistry & Braces wants to keep your experience calm and relaxing, so give us a call and see how we can help meet your individual needs. We're proud to offer comprehensive and affordable dental services to our Oklahoma City community.
If you have questions, feel free to fill out the short form below and we'll reach out to you about how Sedation Dentistry could be a good fit for you.